Welcome to Art Box and Panel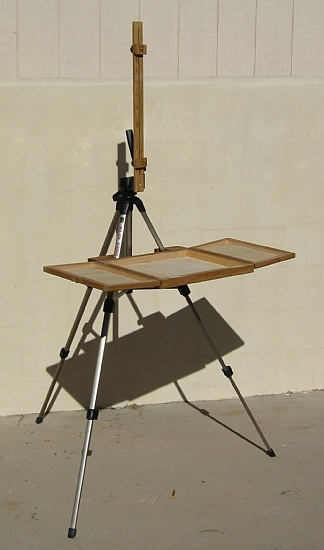 In business since 1998. My easel has become one of the most popular 2 or 3 outdoor painting systems used by top Plein Air artists today. There are also a large number of artists using this easel for traveling to "Workshops" and to set up in their home as a "Studio Easel". Like the powerful paintings done by the Masters, "SIMPLICITY" has been the main guideline. Weighing less than 4 pounds and setting up in less than 30 seconds, makes it the lighest, fastest, sturdiest, and easiest to carry, while still giving you the most paint mixing room. This easel is not "Manufactured" in some foreign country, it is individually handmade in an Arizona woodshop, USA.
The highest priority of the Art Box and Panel company is the function and durability of my products. The Coulter Easel is a revolutionary design based on the old stand-by French Easel; Less heavy brass accessories, glass to break, complicated moving parts to get dirty and stick or loose, less weight but more stability. With the exception of this web site the business has been built entirely from word of mouth and product exposure. The pricing is very competitive since I do very little advertising or marketing and make all the products in my own shop. I also hold all the positions in the company from CEO, woodworker, and shipper; When I'm not painting full time of course. Normally your order ships within the same week, unless I'm out of stock or when I go on painting trips there is no shipping for a week or so. Don't wait until the last minute to order! When I leave I will post it here on the web site and when I will return.
There is a long list of Professional artists that have been using our Plein Air System for many years, here are a few:
Walt Gonske, Curt Walters, Ray Roberts, Kenn Backhaus, George Strickland, John Poon, Kim English, Gay Faulkenberry, Jennifer McCristian, Carol Marine, Dreama Tolle Perry, Gavin Brooks, Lynn Gertenbach, Ned Mueller, Dawn Whitelaw, and Georgia Mansur .